Forensic Document Examiner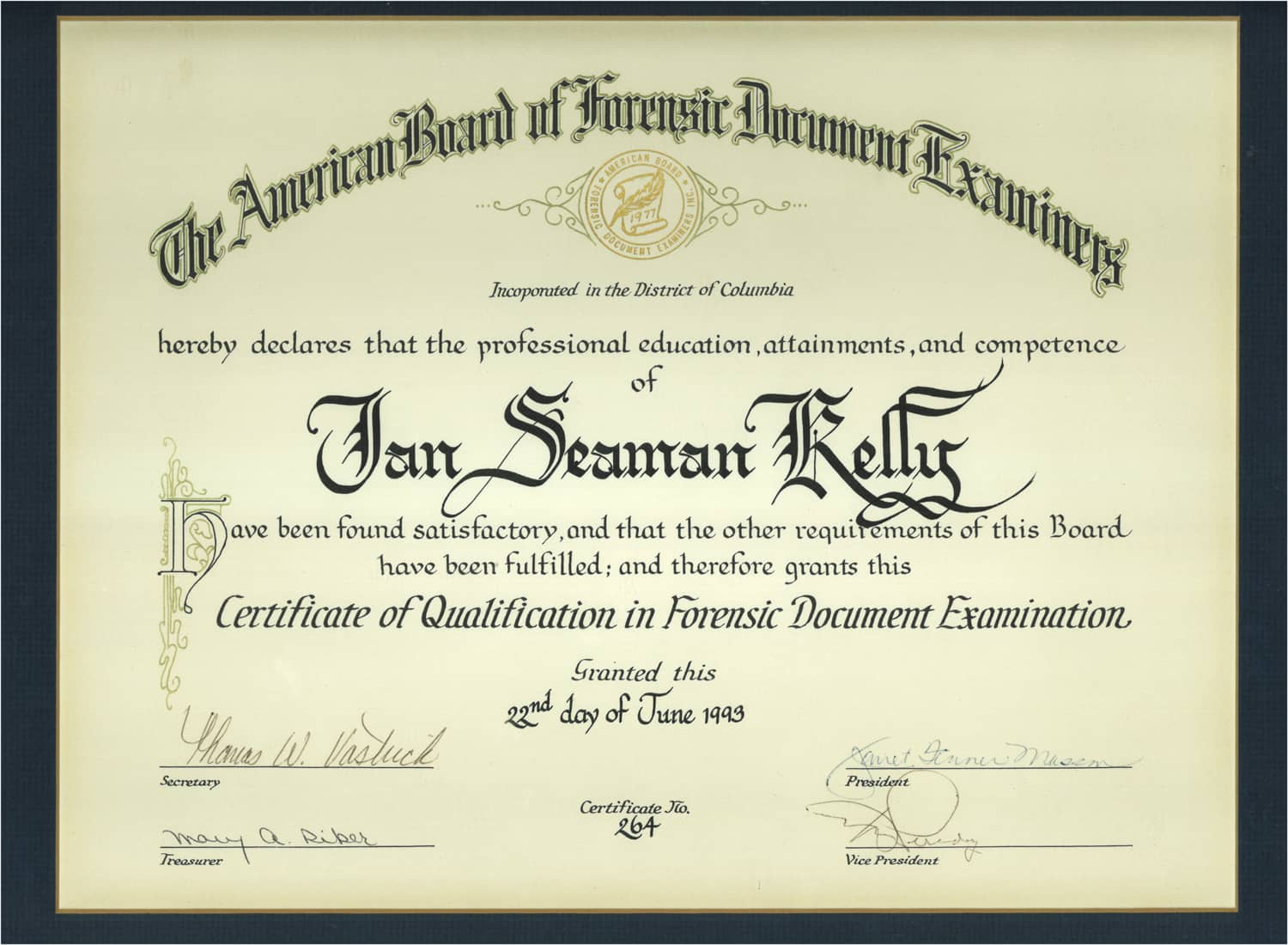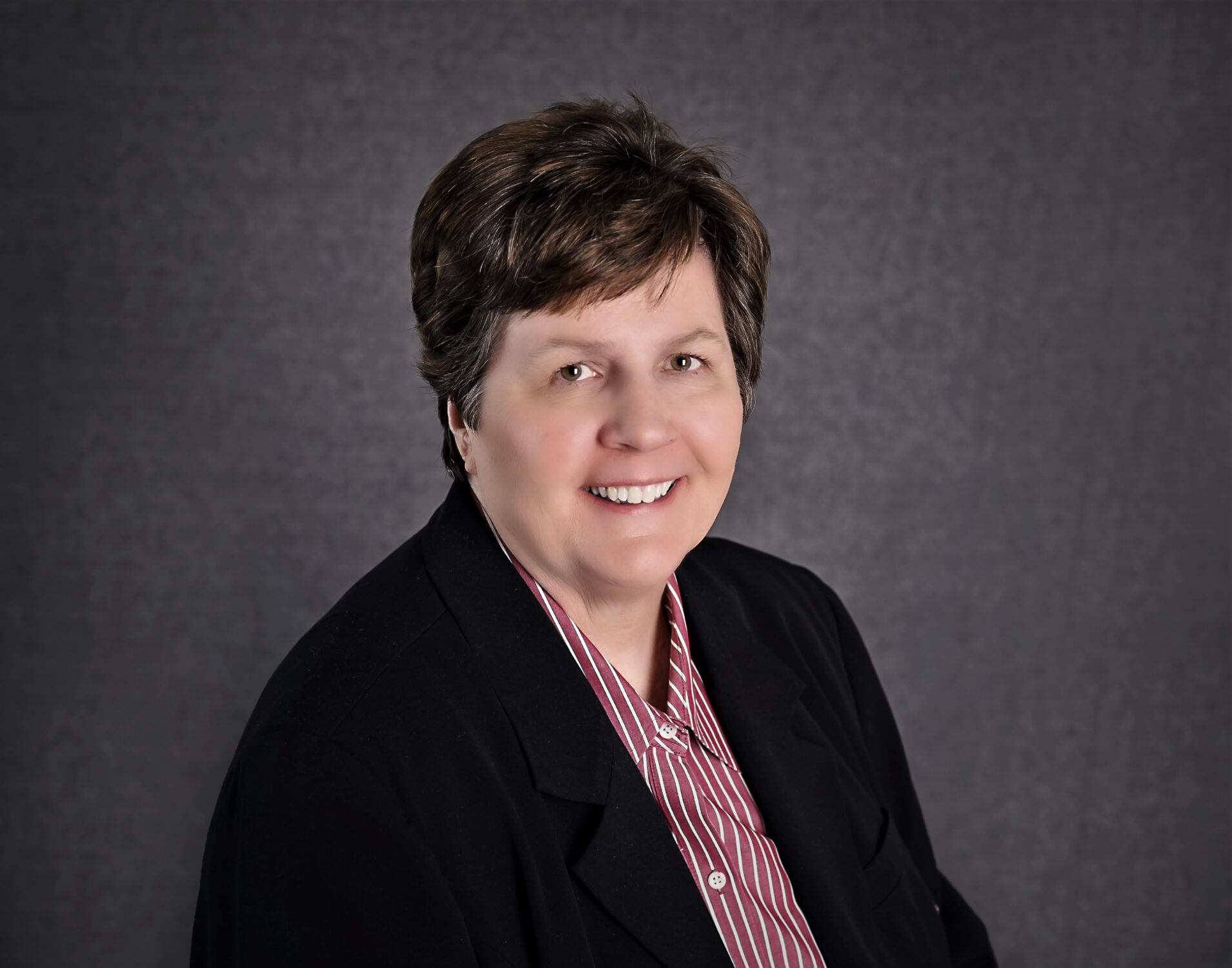 Jan Seaman Kelly has over 34 years of experience as a Forensic Document Examiner. She received her training in forensic document examination from the United States Postal Service Forensic Laboratory in San Bruno, California, and was certified by the American Board of Forensic Document Examiners (ABFDE) in 1993. ABFDE is an independent entity and is the only certifications body for forensic document examiners initially funded by a United States Department of Justice grant in 1977. During her years of service on the ABFDE Board of Directors, Ms. Kelly held the positions of Recertification Chair, Secretary, and President.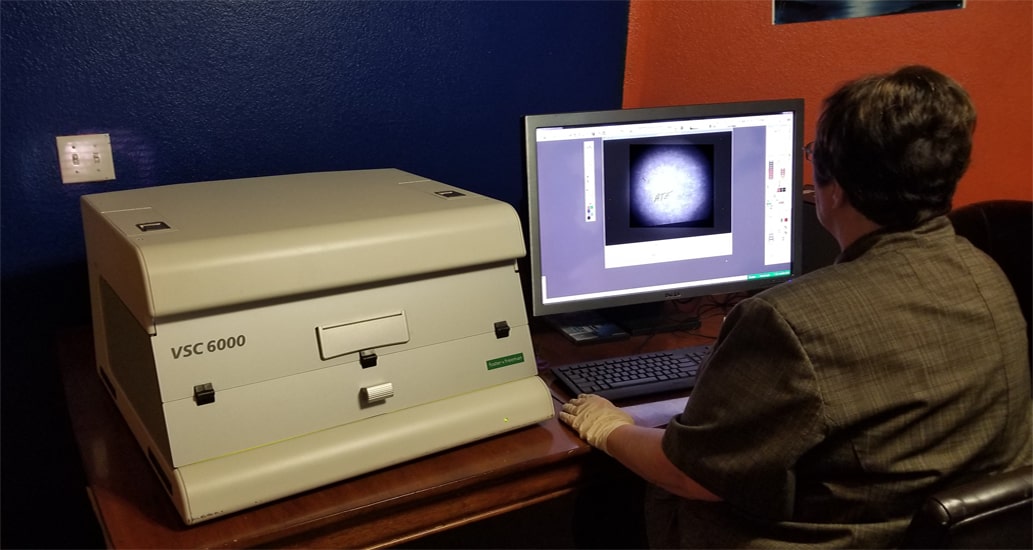 NON-DESTRUCTIVE EXAMINATION OF INK
In cases involving the possibility of different inks being used in a text, the Video-Spectral Comparator (VSC-6000) is an instrument used to conduct a non-destructive examination to determine whether or not a letter has been added to the original text. The range of infra-red and ultraviolet filters allow a non-destructive examination of inks to be conducted. The images of "RAT" and "HATE" were examined for ink differences using the VSC 6000. The VSC-6000 filters revealed the lower leg of the "R" is in a different ink than the ink used for the original word "PAT". The VSC-6000 filters revealed the letter "H" in "HATE" is in a different ink than the original word "ATE".
What Is Forensic Document Examination?
Forensic document examination is an applied science that encompasses a variety of examinations on the numerous forms of written communication. The examination of a signature, handwriting, or hand printing on paper is a common forensic document examination. Written communication, however, can be found on a myriad of substrates such as mirrors, walls, metals, plastics, and cardboard boxes. The communication can be produced by traditional writing instruments such as pen, pencil, marker, or crayon as well as non-traditional objects such as lipstick or spray paint. Written communication can also be achieved through mechanical means such as the typewriter, embossing machine, rubber stamps, or commercial printing methods. Recovery of indented writing, reconstruction of shredded documents, recovery of obliterated text, recovery of text on charred documents, identifying text that has been added to a document, fracture match, and machine-generated text examinations are within the purview of a forensic document examiner. Jan Seaman Kelly has the experience to conduct examinations in all facets of forensic document examination using state-of-the-art instrumentation.
Criminal, Civil, and Administrative cases accepted. There is no charge for an initial consultation to determine whether or not you need the services of a certified forensic document examiner. Ms. Kelly can be contacted at 702-682-0529 or at forensicdynamicsllc@gmail.com.
Publications
Jan Seaman Kelly has authored numerous articles published in peer-reviewed scientific journals and is the primary author and editor of two books"  Forensic Examination of Rubber Stamps" and "Scientific Examination of Questioned Documents" (Second Edition).  Ms. Kelly was editor of  the most recent book, Forensic Document Examination in the 21st Century.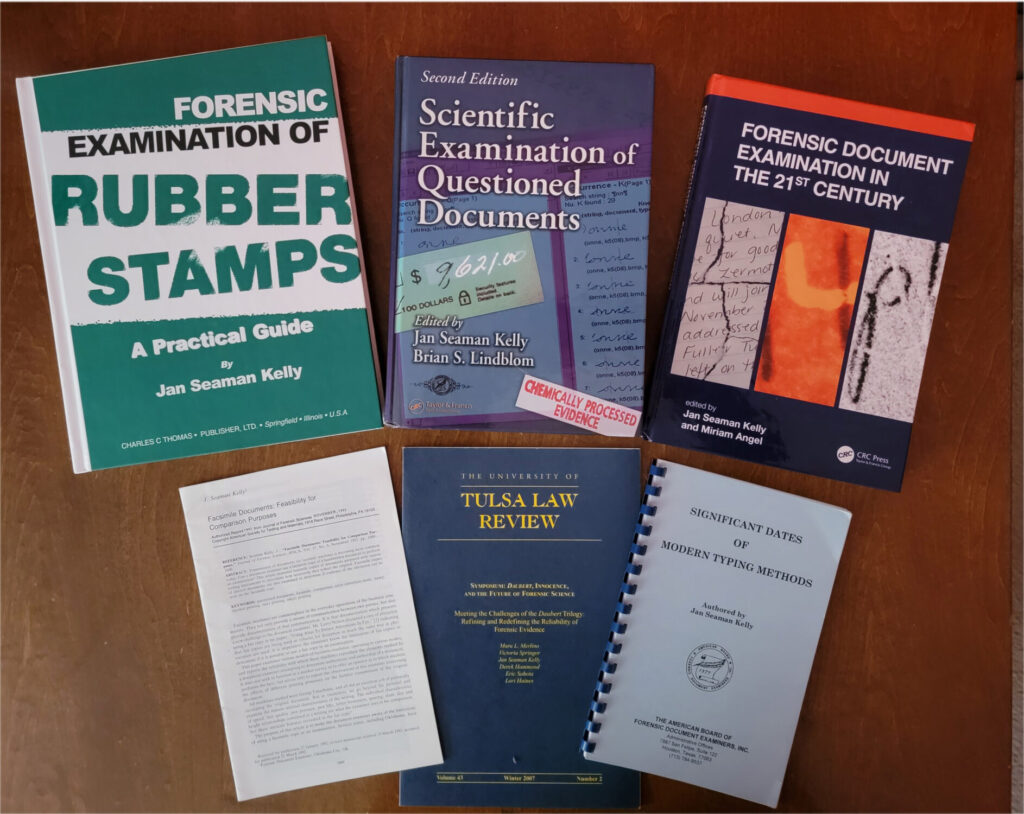 Awards & Recognition
Ms. Kelly has received recognition for her contributions to the forensic document profession. The following were presented in recognition of her work and dedication to the profession.
New Horizon Award 2007
Certificate of Appreciation – Metropolitan Police
Outstanding Service Award – Oklahoma County District Attorney's Office
American Board Forensic Document Examiners 2003
Dedicated Service Award – American Board of Forensic Document Examiners
CURRENT AND PAST MEMBERSHIP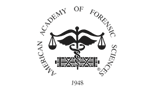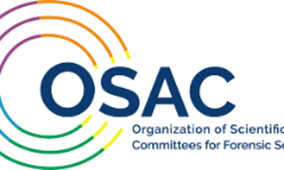 PROVIDING EXPERT ANALYSIS WITH A PERSONAL TOUCH
Contact us today for a free consultation.
Phil Stambeck, Esquire
For a decade [1987 – 1997] I was the head of the White-Collar Unit at the Oklahoma County District Attorney's Office and worked with Jan daily.  Her expertise was invaluable to the successful prosecution of thousands of crimes such as:  Bogus Checks; Forgeries; Embezzlements; Robberies and even Murder.  Her expertise and work ethic was impeccable!  I do not recall even a single instance in which she made a positive determination that did not end in a conviction for the State of Oklahoma.  Jan's reputation for making a determination, ONLY after she was 100% certain of it, was such that after reviewing her analysis Attorneys would invariably ask to have a private discussion with their client, which always ended with them returning and seeking a plea agreement rather than face Jan's testimony at trial.  Quite simply, Jan's reputation for honesty and accuracy was beyond reproach!
Phil Stambeck, Esquire
Detective Bradley Nickell (Ret.)
Jan Kelly is one of the world's foremost experts in forensic document examination. Jan's qualifications speak for themselves, but equally important to know is her decades of experience and tenacity are virtually unmatched in the industry.
For me, Jan's talents shined brightly when she identified the obliterated handwriting of the suspect in a murder for hire plot where me, a sitting judge, and a prosecutor were targeted. Her testimony was the lynchpin that established scientific credibility to the evidence and testimony of other prosecution witnesses. When defense counsel questioned Jan on the stand about her experience and qualifications, Jan's humble
There is no better person than Jan Kelly to handle forensic document examinations and provide knowledgeable, credible, and  compelling testimony.
Detective Bradley Nickell (Ret.)
Las Vegas Metropolitan Police Department
September 16, 2022
Bob Matteucci, Esquire
During the delivery of her decision in my case, the Judge stated Ms. Seaman Kelly went toe-to-toe with the opposing expert and did an outstanding job! Her testimony and experience outweighed the testimony of the opposing expert. Ms. Seaman Kelly's report was outstanding and she presented the results of her examination well in court. I will not hesitate to retain Jan Seaman Kelly in the future. I highly recommend attorneys who need the expertise of a forensic document examiner to contact Jan Seaman Kelly.
Bob Matteucci, Esquire
Albuquerque, New Mexico
Indented Writing Recovery
After misplacing, or accidentally throwing away a financially-important, handwritten document, my husband and I systematically searched our house for a week leading up to December 23rd, 2021. Losing almost all hope, and with Christmas looming in just 2-days, my husband found a piece of notebook paper that contained the indentation of the page before it, which appeared to be our crucial record.
We researched how to recover handwritten documents and found people that used techniques such as shading with a make-up brush or a graphite pencil. This seemed too high risk because most of the words were not visible to the naked eye. We decided to try and find an expert.
We found Jan Kelly's website, forensicdynamics.org, after searching keywords we learned from our investigation – "detection and recovery of indented writing (non-destructive)." From there, we sent her a message and had no idea what to expect. She responded within an hour, and after a phone call, invited us to meet her on Christmas Eve. We attempted to dissuade her from working on the holiday and assured her we did not mind waiting until after Christmas (even though we were secretly dying on the inside). She insisted, stating she "understood what this must feel like on our end." Wow!
Stunned, we hand-delivered our document to Jan Kelly on Christmas Eve morning, and she called just a few hours later with AMAZING news! Jan had successfully recovered the writing! After picking up our documents and returning home, my heart skipped a beat as I successfully logged into what I thought was an account, lost forever.
Mrs. Kelly was professional, kind, and understanding of our situation to say the least. My husband and I call her our real life superhero because her skills are rare and her customer service is out-of-this world. We can't believe how lucky we were to have found her within miles of our home.
Lindsay
January 6, 2022
A Very Detailed Report
"Ms. Kelly was retained as an expert on a criminal case in Arizona to conduct a handwriting analysis. Ms. Kelly was a pleasure to work with. She was very accessible and kept me informed along the way. She is very experienced and knowledgeable. Ms. Kelly conducted a thorough handwriting analysis and authored a very detailed report. I would not hesitate to retain Ms. Kelly in the future."
Rebecca L. Felmly, Esquire
Chandler, Arizona
January 27, 2021
East Mountain Legal Services, LLC
"My firm hired Ms. Seaman Kelly to review documents and provide her expert opinion/testimony regarding the authenticity of a signature on a legal document.  Ms. Seaman Kelly was very prompt, professional and courteous.  Her knowledge of handwriting analysis is extensive, and she shares openly about the nuances of analysis in her field.  Her report was prepared with an expert, professional hand, and great attention to detail.  In addition, she provided research and insight into the opposing expert opinion, as well as offered questions to ask the opposing expert in a trial setting.  I have no doubt my clients will have the prevailing expert opinion if and when our case goes to trial.  I do believe her report has contributed significantly to settlement negotiations at this time.  She's also certified by the American Board of Forensic Document Examiners (ABFDE), while others who tout themselves as handwriting experts may not be properly certified.  Her services are reasonably priced, and well worth the investment.  I would highly recommend her to anyone needing a handwriting expert."
Marna N. Trammell, J.D., NREMT-B
East Mountain Legal Services, LLC
Moriarty, NM 87035
January 26, 2021
Thank you
"Thank you for the quality of service you provided. Our family sincerely appreciates the efficient level of detail and gracious customer service. We are so thankful to you and your time."
Tannehill, Oregon
October 20, 2020
Deane W. Minor, Attorney
"If you want a straight-forward, timely, and clearly written report on your handwriting issue – call Jan Seaman Kelly. Ms. Kelly explained what data she needed from us, kept us informed throughout her investigation and analysis of the data provided, and delivered her work product on time and in a format that aided us greatly in the settlement of our civil fraud case. I have no hesitation in recommending Ms. Kelly, she was outstanding to work with."
Deane W. Minor, Attorney
Tuohy Minor Kruse PLLC
Everett, WA
March 6, 2020
A Compelling Witness
"Arbitrator finds in favor of the Defendant and awards the Plaintiff nothing on his claims. Arbitrator finds the testimony of the Defendant's expert witness to be compelling for the basis of this award."
Arbitration Hearing                                                                                                 
District Court II                                                                                                 
Clark County, Nevada                                                                                   
October 9, 2019
Stephanie Hartman Rojo, Esq.
"Jan,
I just wanted to take a brief moment to thank you for your professionalism over the past several weeks. I have really enjoyed working with you and learning a bit more about the forensic analysis process. Your attention to detail is admirable! It would be my pleasure to work with you on cases of a similar nature in the future."
Stephanie Hartman Rojo, Esq.
Estate Planning and Estate Administration Attorney
September 19, 2019
District Court, Clark County, Nevada
"Handwriting expert Jan Seaman Kelly provided a report and testified at trial. Ms. Seaman Kelly was professional, and the court finds her testimony to be credible. Ms. Seaman Kelly was able to explain the common characteristics of the samples as well as to admit the limitations of her conclusion".
District Court, Clark County, Nevada
Dept. No. VIII
July 12, 2018
District Court, Clark County, Nevada
"The defendant presented the expert report and in-person testimony of Jan Seaman Kelly. In her April 8, 2019 report, Ms. Kelly stated the defendant is eliminated as the writer of the questioned signature listed as Item 1. Ms. Kelly described the numerous differences between the known signatures and the questioned signature. Ms. Kelly underwent extensive cross-examination by the plaintiff at the arbitration hearing and I found Ms. Kelly's testimony persuasive as to the issue of whether or not the signature on the Consulting Agreement was written by the defendant".
District Court, Clark County, Nevada
Dept. No: VIII
June 21, 2019
Charles L. Neff, Esq.
"As a trial lawyer of now over 36 years and as a past Governor of the North Dakota Trial Lawyers I have had experience with a large number of witnesses. To be openly frank, I have worked with expert witnesses who were self-absorbed individuals, who liked to hear themselves talk and had egos and work product so complex the finder of fact could not relate to the expert or the testimony.
Your help and assistance on this case was credible, clear, concise and easily understandable and was a great help to the Court, myself and my clients".
Charles L. Neff
Neff, Eiken & Neff P.C.
Williston, North Dakota
January 8, 2019