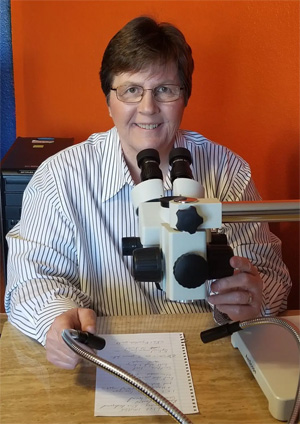 Jan Seaman Kelly has 30 years of experience as a Forensic Document Examiner. She received her training in forensic document examination from the United States Postal Service Forensic Laboratory in San Bruno, California. Ms. Kelly became a Diplomate of the American Board of Forensic Document Examiners (ABFDE) in 1993. She is a Fellow and has served as Section Chair and Section Secretary of the Questioned Documents Section in the American Academy of Forensic Sciences (AAFS). In 1995, Ms. Kelly was appointed to the Board of Directors of the American Board of Forensic Document Examiners (ABFDE) and served as Recertification Committee Chair (1995-1999), Secretary (1999-2001), and President (2001-2003). Ms. Kelly has published numerous articles and is a primary author and editor of two books: Forensic Examination of Rubber Stamps in 2002 and Ordway Hilton's 2006 Second Edition of Scientific Examination of Questioned Documents. Both books are used as training and reference sources for forensic document examiners.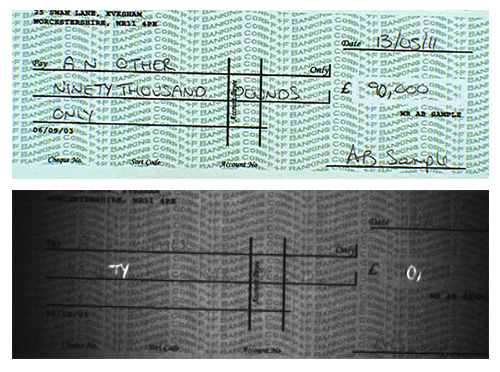 Forensic document examination is an applied science that encompasses a variety of examinations on the numerous forms of written communication. The examination of a signature, handwriting, or hand printing on paper is a common forensic document examination. Written communication, however, can be found on a myriad of substrates such as mirrors, walls, metals, plastics, and cardboard boxes. The communication can be produced by traditional writing instruments such as pen, pencil, marker, or crayon as well as non-traditional objects such as lipstick or spray paint. Written communication can also be achieved through mechanical means such as the typewriter, embossing machine, rubber stamps, or commercial printing methods. Recovery of indented writing, reconstruction of shredded documents, recovery of obliterated text, recovery of text on charred documents, identifying text that has been added to a document, fracture match, and machine-generated text examinations are within the purview of a forensic document examiner. Jan Seaman Kelly has the experience to conduct examinations in all facets of forensic document examination using state-of-the-art instrumentation.
Criminal, Civil, and Administrative cases accepted. There is no charge for an initial consultation to determine whether or not you need the services of a certified forensic document examiner. Ms. Kelly can be contacted at 702-682-0529 or at forensicdynamicsllc@gmail.com.